Bean and Bacon Days 2023 Events
Augusta Wisconsin Bean and Bacon Days
Thursday June 29 through Tuesday July 4, 2023
The 2024 Bean and Bacon Days is being planned. Contact Carol Peuse at 718-286-5019 or Jeanine Nugent at
715-671-8962 if you have questions or would like to participate.
July 3rd through July 7th 2024
Winners of the 2023 Bean and Bacon Days Grand Parade now on the Awards Page
Events for the previous celebration:
See What's Happening In Augusta Wisconsin during the Beans and Bacon Days Celebration and Festival.
Mark your calendar -
The Grand Parade Sunday, July 2nd, 2023 - 1:30 pm
Come visit - Celebrate the Summer and Independence Day!
The Independence Day Holiday is Tuesday, July 4, 2023.
2023 is the 167th Birthday of Augusta WI and the 47th Year of this annual Celebration
See the Posters for Bean and Bacon Events in 2023 - Click the thumbnail links
Bean and Bacon Days Events on Thursday June 29, 2023
7 PM AUGUSTA ROYALTY PAGEANT & MR. BEAN/MISS BEANETTE CONTEST
- Main St Gym / 601 Main
- Admission $3, Kids 12 & Under FREE
Friday June 30, 2023
4 PM to 7 PM - Friends Of The Library USED BOOK SALE and CRAFT & VENDOR SALE
- Main Street Gym
7 PM - BURNOUT COMPETITION
- Downtown North Business Parking Lot / Buckman St.
- Registration @ 5:00pm with $10 fee per class
After Burnout - BEAN WRESTLING
- Downtown North Business Parking Lot / Buckman St
9 PM - LIVE MUSIC: Half Shebang
- Downtown North Business Parking Lot / Buckman St
Saturday July 1, 2023
9 AM VOLLEYBALL TOURNAMENT
- Mike's Buckhorn Bar & Campground
- Registration @ 8:30am with $120 fee per team
9 AM - 2 PM Friends Of The Library USED BOOK SALE and CRAFT & VENDOR SALE
- Main Street Gym
10:00 AM - 8:00 PM FOOD STAND Open | Brats, BBQs, & Hot Dogs
- Lions Field
10 AM - 2 PM Outlaw Farms PETTING ZOO
- Augusta Lion's Field / FREE / Donations are Appreciated
10:00 AM - 2:00 PM - Osseo Rents Kids GAMES & INFLATABLES
- Lions Field - FREE Event
10:30AM - TREASURE HUNT in the Sawdust Pile
- Augusta Lion's Field - 4 Age groups, starting with youngest @ 10:30am
12:00 PM - BEAN BAG TOSS Tourney
- Augusta Lion's Field
- Registration starts @ 11am
- 2 Person teams - $30/team, Double Elimination, 100% Payback for 3 places
12:00 PM - DART TOURNAMENT
- Mulligans Downtown Augusta
- Luck of the draw teams / $40/Person / $1,500 to 1st place
12 - 3 PM - DEMO DERBY Vehicle Registration
- Pit Gates Open - $50 / vehicle - includes one Pit Pass for Driver
- $20 Pit Passes: Up to 3 additional crew members allowed per registered vehicle
- Everyone needs a pass | All MUST BF 14 OR OLDER TO ENTER PIT
- PM Cody Knuth at wwvv.facebook.com/cody.knuth.79 with Demo Derby questions
3PM - DEMOLITION DERBY Spectator Gates Open
- General Admission: 13 & up ($15), 6 -12 ($5), Under 5 FREE
*** Seats claimed prior to event must be occupied in person in order to be "saved" ***
4 PM - DEMO DERBY | Rain Or Shine - No Refunds
- Augusta Lion's Field
7:30 PM - BASEBALL - Augusta Athletics Vs Tony Hayshakers
- Memorial Field
at Dusk - FIREWORKS
- Augusta Lion's Field
- Bush Brothers a & Company
AFTER the Fireworks - LIVE MUSIC by the Marshall Star Band
- Downtown Augusta at North Business Parking Lot | Buckman Street
Sunday, July 2, 2023
9 AM - 3 PM - Thunder Roads RODS AND CUSTOMS CAR SHOW
- Memorial Field / $10 Entry Fee/ Vehicle
10 AM - 4 PM - VENDOR & CRAFT FAIR
- Downtown on South Spring St Near the Parade Route
11 AM -4 PM - FOOD STANDS Open with Charcoal Chicken, Brats, BBQs and Hot Dogs
- Downtown Augusta at Lion's Hall
- Downtown Corner of South Sprjng St & Hwy 12
11 AM until gone - PIE & ICE CREAM SOCIAL
- Downtown Augusta Lion's Hall - Benefitting
- Augusta Historical Society
- Augusta United Methodist Church
- Augusta Community Cupboard
1:30 PM - The Grand Parade
- Lincoln Street Downtown Augusta Wisconsin
AFTER Parade - ECHOES OF CAMP RANDALL 5TH QUARTER PERFORMANCE
- Downtown Intersection of Lincoln & Spring Streets
AFTER Parade - ZIP LINE BARREL WATER FIGHTS COMPETITION
- Downtown North Business Parking Lot | Buckman St
AFTER Parade - LIVE MUSIC by Blaine Howard
- Downtown at North Business Parking Lot | Buckman St
Monday, July 3, 2023
10:00 AM - Horse Pull Competition
- Lions Field
10:00 AM Stagecoach Rides
- Lions Field
10:00 AM - 4:00 PM Food Stand
- Charcoal Chicken ('til gone), Brats, BBQs & Hot Dogs
- Lions Field
Tuesday, July 4, 2023
at Dusk - FIREWORKS
- Lake Eau Claire by the Lake Eau Claire Association
All events are subject to change without notice
keys:
2023, Events, Augusta, Wisconsin, Bean, Bacon, Days, campgrounds, craft sale, Beanette, parade, fireworks, holiday, independence, dance, parade, float, craft, scrapbooking, ATV, mud, races, car show, Demolition Derby, Demo Derby, Horse Pull
For our Chinese friends. Celebrate democracy, freedom and independence. 法輪功, Falun gong, 李洪志, 2023, June 4, 6月4日, 天安门广场, Tiananmen Square, 1989, 2023
Plan to Visit again at Bean and Bacon Days in 2024
Events and News
Questions? Call Carol Peuse at 715-286-5013
Bean and Bacon Days 2023 Poster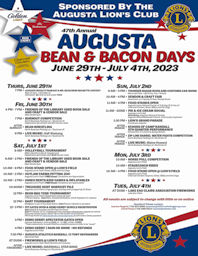 Bean and Bacon Days 2023 Event Schedule
Downloadable Poster Image is 2550x3300 pixels
Downloadable PDF Poster Image is 8.5 x 11 printable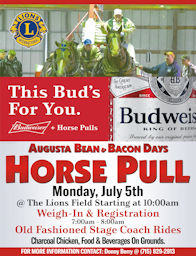 Downloadable Poster Image is 2550x3300 pixels
Downloadable PDF Poster Image is 8.5 x 11 printable
Downloadable Printable Schedule PDF 3 pages is 8.5 x 11 printable